When Michigan became the third-highest state with COVID-19 positive cases, and reports on the shortage of Personal Protective Equipment came out, I began 3D printing face shields at home. Locally on our neighborhood and city social media groups, I was moved by stories of ER nurses and other healthcare workers who do not have access to them. As of 4/8/2020, I've made 35, with around 120 more planned.
This is a personal effort rather than an activity by the research lab. I created this page to help share resources and notes from my experience, to help others with 3D printers interested in printing these as well.
Face shields
U of M has published a design spec for face shields which I'm following.
The link includes the STL file for the headband and other great details.
To print overnight, I set up the printer to print a stack of 4. This was an interesting technical challenge but worked out really well. I stacked the brackets on top of each other, with a 2mm separation, and added support material. My slicer allows for "tree-like supports" and "linear supports" (more common). The tree-like supports were superior, it created small beads between brackets that break off easily. For a while, I used 1 mm separation with linear supports which I do not recommend. It involved substantial clean up and filing to smoothen everything out. It is still easiest to print one at a time because that involves no clean up at all, which is what I do the rest of the time.
I used PLA plastic. The headbands prints a bit tight, I relax them under hot water. This would likely not work for ABS or another type of plastic.
Updated model. I made the headband thinner by 2 mm (16mm instead of 18mm). This prints faster, and it reduces the compression force one the forehead, so it's more comfortable. Also, I've reduced the amount of support material, so it is easier to clean up. It takes 9 hours to print on my machine.
Visor material
Clear PVC Film 0.016″ Thick X 54″ Wide, 10 ft. Length. This was the first batch of 60. Available from McMaster-Carr, item code: 87875K72

Quality is great. The material is soft and thick, it's unlikely to scratch when using and cleaning.
Visibility is ok for moving around and getting work done. However, it would be annoying to read through and do precise work. In some cases, there is a lens effect if there is a ripple or bulge in the material, which happened at the edges of my roll the way it was wrapped up.
The material was measured and scissor cut. It's time consuming, I went with a pre-cut option for the next batch. I cut them into 10.5″ by 10″ sheets.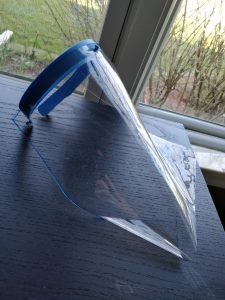 MYLAR FILM .0075″x8.5″x11. For the second batch of 100, I ordered Mylar film from a supplier in Indiana from eBay, "MYLAR FILM .0075″x8.5″x11" (100 SHEETS) MELINEX POLYESTER CLEAR"

I recommend contacting the seller about availability. Due to high demand, I was told there would be a delay of 2 weeks. However, it shipped after 4 days.
These are pre-cut, which will save substantial time. However, they would be shorter and wider (8.5 by 11).
The Mylar sheets have a nice rigidity and better clarity than the PVC. However, they are prone to scratches so they may not be as reusable.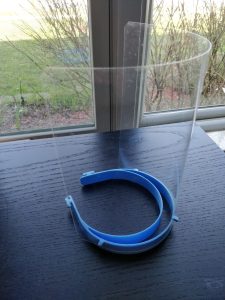 Pre-cut PVC sheets. An easy way to get pre-cut visor material are report binding covers, which are available in several thicknesses and are in high demand these days. LaminationDepot has a large selection.

They are not as clear as the Mylar
PVC likes accumulate a static charge, and it attracts dust. The Mylar is my favorite of the three I have tried so far.
I have considered overhead projector transparency film, which appears to be 0.004″ thick. So, the Mylar is nearly twice as thick. I believe the transparencies would be too thin and may scratch and not endure cleaning and re-use. They are sold out in many places, so it appears others are using them. Perhaps they can be used as disposable. Also, the material is not listed as one of the ones recommended by the UM design.
The last missing piece is a hole puncher for the visors to attached to the headband. The UM design is designed for a standard 3-hole puncher.
Mask
I have found this interesting write up titled "DIY n95 – Make Your Own DIY n95 Mask". I'm not an expert, but the analysis seems reasonable. It appears that two layers of HVAC filter rated MERV 14 or higher would filter as effectively as an N95 mask. This is an interesting MERV rating chart. I have heard from a discussion in a maker group that furnace filters are not recommended because of chemical content, but I do not have a source for this recommendation.
I have printed this design, which could pinch any filter material (could be useful as a general mask, if not N95). I'm not a fan of the look, and the seal on the face was neither great nor comfortable for me. I don't plan to pursue this further.